Sustainable Development and Collaborative Governance in NYC
On Thursday November 17, 2016 the Conference on Sustainable Development and Collaborative Governance took place at Laguardia Community College. Sponsored by Governor Cuomo, the conference presented many different concepts on how New York State as a whole and more specifically New York City can reap the benefits of becoming leaders in sustainability and resilience.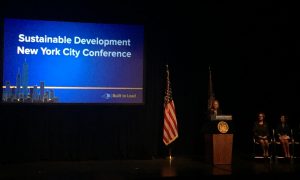 The first keynote speaker, Bart Harvey, CEO of Enterprise Community Partners/Investment, paved the way for the conference, discussing sustainable affordable housing. Other speakers, such as Les Bluestone of Blue Sea Development Company and Michael Wadman of Phipps Houses, further described the benefits of green housing. Bluestone said, "Sustainability of who is inside buildings is as important as the outside. We need to refocus on people versus the buildings." He emphasized the vital role of the built environment in improving people's health, from putting better lighting and art work in the staircases to encourage residents to walk up to their apartments to growing fresh fruit and vegetables on site to promote healthy eating.
Rebuilding after Hurricane Sandy was another resounding theme of the conference. Several speakers discussed the devastation that Sandy brought to NYC. Andrea Parker of the Gowanus Canal Conservancy stated that most of the canal flooded during Sandy. She argued that resilience measures in that area are vital, and explained the role of green infrastructure, such as bioswales, in particular. Christopher Collins of Solar 1, discussed their work with the Governor's Office of Storm Recovery. Solar 1 did a detailed assessment of over forty properties in areas most affected by Sandy in Brooklyn and Queens and found seven viable properties to create self-sustaining, solar powered buildings. These buildings will serve as refuges for people during storms and will ensure that they remain powered if another Sandy-like storm hits the area. Collins emphasized that New York is "light years ahead of the rest of the country. It is the perfect time to implement" these resilience measures.
Two of the speakers also discussed a Rebuild By Design Project that is in the process of being implemented on Staten Island's south shore. Pippa Brashear of SCAPE Landscape, the firm led by Professor Kate Orff of Columbia's Graduate School of Architecture, Planning and Preservation, explained their Living Breakwater project that is being designed as a means to prevent wave damage and erosion to one of the areas where Sandy wreaked havoc. Historically, oyster reefs lined the waters along NYC. Prior to the early 1800s, there was no record of storm events that deposited sediment along the shore. The oyster reefs served as a protective layer against storm surge and erosion. The project, from a risk perspective, is to design a series of in-water breakwaters to rebuild and protect the beaches from damaging storm waves. Brashear also described ecosystem services this project will provide, pointing out that an oyster filters twenty four gallons of water per day.
Governor Cuomo's Conference on Sustainable Development and Collaborative Governance put together a stimulating discussion featuring people from a variety of sectors. At this time of political change and uncertainty, the Conference highlighted the innovations, creativity and hope keeping New York City at the forefront of sustainable development.